I made a second roster! As I promised, MeeMee is still in it!
Changes: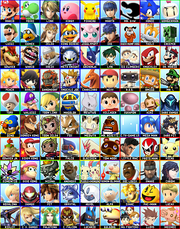 -Ganondorf is in it, unlike my first one!
-Lucina got the boot, and was replaced with Chrom!
-More clones!
-BLAZIKEN HEATS IT UP!!
-RIDLEY SIZES THE BATTLE!! (hehe)
-In the first version, Shulk replaced Snake at the last minute; this time, the opposite happened as Snake is in, but not Shulk!
-Midna loses her wolf companion, but she can still fight!
-F-Zero and PAC-MAN are downsized to one-character series, but Pikmin and Mother pick up new ones! Well, kind of on the latter.
-The best newcomer ever, C. TV-GAME 15 JOINS THE BATTLE!
-Eevee got dropped, but in favor for Meowth, Blaziken, AND Plusle and Minun!
-Other replacements
-YOSHI FINALLY HAS MULTIPLE CHARACTERS ERATBHRSSSSGERGBVWSABHRYT
FUN FACT: Scribblenauts almost got in. Almost.