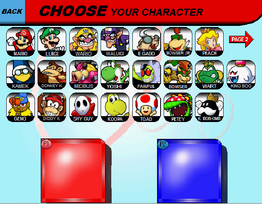 Mushroom Kingdom Showdown has a total of 25 playable characters in the base game - 18 starter characters, and 7 unlockable characters. Through mods, more characters can be added into the game, such as Mr. L. There is also a boss character that appears at the end of Classic Mode, which is the only boss in MKS.
Ordered in latest Tier List.
Offical Characters
Starting Roster
Unlockable Characters
Boss Characters
Giga Bowser - A Transformation of Bowser that makes him more menacing!
Master Hand (Removed) - The evil right hand that pulls all of the strings!
Alternate Costumes
While every character has alternate costumes, these costumes are different characters (but they still share the same movesets) -
Dark Bowser (Bowser) - The dark version of Bowser created by the Dark Star!
Dry Bones (Koopa) - A dried up Koopa who has lost his skin.
Poll for character votes
What Character Do You Wanna See In A Mod?