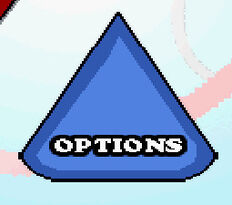 Options is one of the menus found in the Main Menu. In this menu, you can change gameplay in several ways.
List of Options
Edit
You can toggle Showdown Attacks on and off using this option. With this off, this normally makes the game harder as you can't execute those strong attacks to get people away. This applies with all Gamemodes.
You can set if you want Items to spawn during gameplay with this option. Like Showdown Attacks, this makes the game harder with this off. Applies with all gamemodes. (excluding Takedown).
HP (Health Points)Edit
You can change the starting total of health for both players. The options include 1, 50, 100, 200 (default), 300 or 400. This won't affect Classic Mode .
You can adjust the volume of the game using this option. You can mute it with 0 or set it higher with 25, 50, 75 or 100.