LET ME GET ONE THING OUT OF THE WAY: THIS IS PURELY TO LET OTHERS KNOW. THIS GAME HAS NOTHING TO DO WITH MKS OR ANYTHING IN IT. THANK YOU.
Ok, after that disclaimer,
Five Nights At Freddy's Top Down! This is my new project, and I am really enjoying making it.
Basically, It's FNAF for beginners or people who aren't fans of horror games. You can see the entire building from the screen.
There are no jumpscares, and I plan to keep it that way. This is a strategy thriller game. The game will feature the 5 animatronics from the first game, and 5 more fanmade ones. 3 of those spots have been taken up already.
Currently there are 2 modes: 1st Night and 20/20/20/20.
Anyone who has played FNAF knows that 20/20/20/20 is the hardest difficulty in the game, and even the developers didn't think it was possible. Yes, I'm adding a mode specially designed to frustrate you.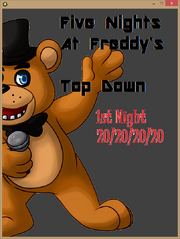 1st Night is the easiest so far and will be designed to teach the player about the new mechanics. Hint: Look out for Bonnie and Chica. They might catch you off guard.
There will be all 5 nights and more, but I haven't got around to making them yet. I used the easiest and hardest difficulty to test the game with family. They all loved it. We all were screaming at the monitor trying to beat 20/20/20/20 Mode.
Now for the biggest change: Power is Gone!
That's right, power is no longer a feature. However, there was a slight drawback when using doors without power.
THE ANIMATRONICS CAN BREAK THROUGH. If they ram into the doors while running around, they door will lose health points, and once it's health points are gone, No more door.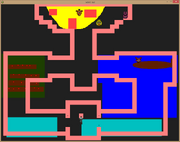 No this is not a joke, and when I finish the first five nights along with one other special mode I will release demo 1.
Leave your thoughts and questions in the comments!