soon ( ͡° ͜ʖ ͡°)

Wow, most commented post. Thats crazy. SUPER AWESOME PRE-ALPHA footage OR demo may come out next week, and I will most likely have a name by then too.
THE DEMO IS OUT! DOWNLOAD FROM MY NEWEST BLOG POST!

EDIT: Going to finalize the roster. Turning comments off because I need no more suggestions. Working on a tech demo. BTW, this is not me trying to steal the thunder of MKS, I just need character suggestions. Thanks
EDIT 2: DA ROSTER
Im reworking it to be smaller, also keeping it private for suprises
Only put ones that I know on, and with me thinking about watching Dragonball Z and stuff, don't think this as a final roster
EDIT 3:
I have been working on it, so here is proof. Opening comments back up.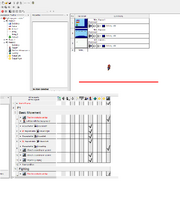 Yeah. Im going to make a Multimedia Fusion 2 fighting game, and I need character suggestions. It's not just for Mario, and its not just for video games. It's for EVERYTHING
Roster
MARIO LUIGI DR. MARIO SONIC TAILS KNUCKLES MEGA MAN PAC MAN
plz help. I will post a demo when I complete the demo